TES- 1370 NDIR CO 2 METER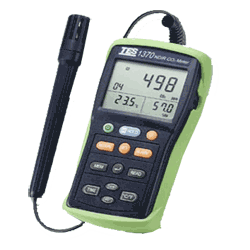 CO 2 : 0 ~ 6,000 ppm range, Diffusion sampling mode.
Three LCD Display for CO 2 , %RH Humidity and Air Temperature.
Maintenance free dual wavelength NDIR infrared CO 2 sensor (non-dispersive infrared).
Continuous or manual data logging (20,000 sets).
Data hold & Maximum / Minimum with Time stamp.
Data Memory and READ function.
Alarm and Time setting.
RS-232 function / Software.
Backlight display function.
Simple and safe to use.